Donor sperm IUI is one of the most popular LGBT fertility options
Single women and lesbian couples have several options when they're ready to have a baby, and Fertility Specialists of Texas offers all of them. Donor sperm IUI is one of the most popular among patients at our LGBT fertility center. This form of artificial insemination allows patients to experience the joy of pregnancy and parenthood with help from donor sperm.
We can help you decide if this type of artificial insemination is right for you
Before you get started with fertility treatment at our clinic, you'll meet with one of our doctors. You'll discuss your medical history and family-building goals and budget. Your doctor will also order some fertility tests. Using this information, your doctor will help you decide if donor sperm IUI is right for you.
We find that women who have a good egg supply, regular ovulation and a healthy uterus are good candidates for artificial insemination. If a patient isn't a good fit for this treatment option, our LGBT fertility center team will often recommend donor sperm IVF instead.
Our team will guide you through every step of donor sperm IUI
The first step when you're pursuing this fertility treatment is to select a sperm donor. You can visit a sperm bank to select an anonymous donor based on his profile and photos. In contrast, you can ask a friend or a family member to provide his sperm.
After selecting your sperm donor, your doctor will help you decide whether to do a natural or a medicated cycle of IUI. Your budget as well as your test results will help your doctor determine which type of treatment to recommend.
With a natural IUI cycle, you will not take fertility medications. Instead, your doctor will work with your natural menstrual cycle and perform the procedure around the time that you are ovulating.
During a medicated cycle, your doctor will likely prescribe an oral medication like Clomid. This type of medication helps the body ovulate (release an egg), which is when the IUI procedure will take place.
Regardless of whether you have a natural or a medicated cycle, the insemination procedure will be the same. Around the time of ovulation, you will visit our LGBT fertility center. You'll relax on an exam table and rest your feet in stirrups.
Your doctor will then use a thin, flexible tube (catheter) to place the donor sperm into your uterus through the vagina and the cervix. The procedure is quick and painless, and you can resume your normal activities the same day. Two weeks later, you'll return to our clinic for a blood pregnancy test and hopefully good news.
If you'd like to explore treatments like donor sperm IUI, contact us. We are here to answer all your questions and guide you on your journey to parenthood.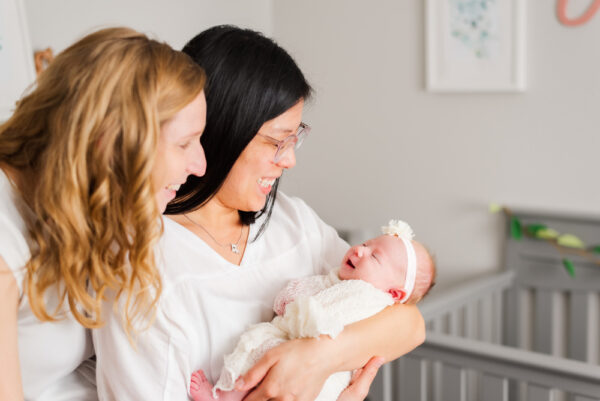 Keep pushing through the storm , because at the end of the rainbow is the best pot of gold.

The Nguyen Family
Our Path to Parenthood: The Nguyen Family
A lesbian couple who turned to Fertility Specialists of Texas to help them build their family shares their journey and how a gay fertility doctor and a welcoming staff made them feel confident and comfortable.