We offer several lesbian fertility options to help make motherhood possible
As you start exploring lesbian fertility options, you'll find that there's more than one way to start or grow your family. Fertility Specialists of Texas offers highly effective treatments for lesbian family building, but that's not all. Our LGBT fertility center provides compassionate care in a supportive and inclusive environment. We're here to support your dream of bringing home a healthy baby.
Donor sperm IUI is one of the most popular methods of lesbian family building
Intrauterine insemination (IUI) is a type of artificial insemination. Our LGBT fertility center team can perform this simple procedure during a patient's natural menstrual cycle or in conjunction with an oral medication called Clomid. We often recommend using Clomid because it typically offers significantly higher pregnancy rates and a faster path to pregnancy.
Having an IUI procedure does not require anesthesia. Many women find that it's similar to having an annual exam with their gynecologist. During the procedure, one of our doctors will place a thin, flexible tube (catheter) into the vagina and through the cervix. Once the tube is in the uterus, the doctor will release the donor sperm that's contained in the tube.
Other lesbian fertility options include donor sperm IVF and reciprocal IVF
In some cases, our LGBT fertility center team may recommend donor sperm IVF to help patients conceive. They may also recommend in vitro fertilization when both partners want to participate in a treatment cycle by using reciprocal IVF.
The main difference between these two lesbian fertility options is who takes part. With donor sperm IVF, one woman provides her eggs and carries the pregnancy. In contrast, reciprocal IVF allows one partner to be the egg donor and the other partner to carry the pregnancy. Other than that and some additional screening for reciprocal IVF, the two treatments follow a similar path.
The woman who is providing her eggs will take injectable fertility medication to encourage multiple eggs to develop.
Her doctor will perform an egg retrieval procedure when the eggs are mature.
Embryologists in the IVF lab will then fertilize the eggs with donor sperm. They will monitor the eggs' growth and development for several days.
When the embryos reach Day 5, the embryologist will help the doctor select a high-quality embryo to transfer.
The woman who will carry the pregnancy will visit our clinic for a quick embryo transfer
Two weeks after the transfer, the patient will return to our clinic for a blood pregnancy test. If her test is positive, our team will monitor the patient for the first few weeks of pregnancy until releasing her to the care of her obstetrician.
There are a lot of lesbian fertility options, but there's no need to be overwhelmed. We can help you find your best path to motherhood. Contact us to learn more about lesbian family building.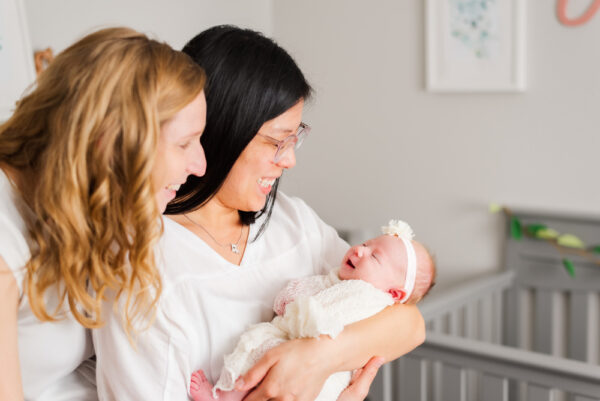 Keep pushing through the storm , because at the end of the rainbow is the best pot of gold.

The Nguyen Family
Our Path to Parenthood: The Nguyen Family
A lesbian couple who turned to Fertility Specialists of Texas to help them build their family shares their journey and how a gay fertility doctor and a welcoming staff made them feel confident and comfortable.